Tim Brands
Data and Digital Leader
I have had the privilege to experience so many distinct work environments:
Growing up in rural Minnesota, learning to drive and operate equipment at an early age and to care for animals. I will always be indebted to my dad for trusting me so much so early in my life and instilling in me the self-confidence that I can learn anything.
Being a one-person IT team for a small company in college, learning a bit about everything from coding to hardware to networking and learning that providing quality service to and creating value for my business leaders must always be job #1. I will always be grateful for this early opportunity for hands-on learning in my new career field.
Working for a large financial services company right out of college, learning how to work on a team in a very structured mainframe environment. I have always appreciated the project disciplines this company taught me.
Transitioning to consulting, advancing from programmer, to business analyst, to project manager. I owe a lot to one client in particular that trusted me with growing responsibilities and new opportunities, including the privilege of working on a new thing called "data warehousing" that set the direction for the next 25 years of my career.
Stepping out in faith to start my own company, experimenting and learning what it takes to build and lead a team, a culture, and a business and to learn what it takes to become a trusted advisor. I had the honor to work with and learn from so many business leaders I respect that I couldn't possibly begin to name them all.
Having to close my business after 16 years, learning and living the harsh realities of failure and disappointment and at the same time pressing onward, moving forward, and embracing what I had learned. While painful, I am grateful for what I learned about myself -- personally, professionally, and spiritually -- through this difficult time.
Innovating and leading in a very large and complex global enterprise, learning (again!) how to realize big change by influencing others. I am incredibly thankful for so many people who caught our vision, who were willing partners with us, and worked tirelessly to move forward at pace and at scale, showing me and so many others what a preferred future can look like.
These distinct work experiences have allowed me to create, lead, and be a member of teams that accomplished some pretty incredible things:
As Divisional Chief Data Officer:

'22 Breakthrough Award nomination for a solution that predicts labor shortages and recommends optimal staffing, realizing $21M in income generation and $1.2M in cost reduction in the first year.
Led the ideation and innovation to create a modern data integration strategy, higher data quality, and reusable data assets through a data fabric architecture that became the global target architecture.
Recruited by corporate leadership as the one resource to work across four workstreams of organizational and operating model design for a new corporate data function.

As CEO, Interim COO, Contract CIO, and Practice Manager:

Created and led organizations and business units with success in business strategy, P&L management, team hiring and development, client relationship management, data, and IT.
Advisor to clients' Boards of Directors and Senior Leadership Teams due to strategic thinking, business acumen, and data and technology expertise.
Executed a successful 12-month turnaround for highly-leveraged company and team of 40 people by aligning operations, sales, marketing, and recruiting. Improved net profits from -2% to 6.5%. Improved cash flow to reduce borrowing for operating expenses by 40%. Drove operating metrics to 7-year bests.

As Fractional Chief Data Officer, Digital Transformation Lead:

Led multiple digital transformations providing new products, services, and customer-facing capabilities, growing revenue, increasing customer retention, and capturing labor efficiencies.
Created data and digital capabilities to enable customer loyalty programs, brand-wide performance benchmarking, sales planning, marketing automation, digital customer experiences, and more.
I have been blessed with work experiences and successes in a wide variety of industries:
Retail, quick service restaurant, manufacturing, agriculture, distribution, logistics, financial services, travel, higher education, insurance, telecommunications, healthcare, and government.

Dordt University
B.A. - Management Information Systems, Accounting, Business Administration | 1986 - 1990

The Strategic Coach
Enterpreneurial Masters Program (non-accredited) | 2008 - 2013

University of Northwestern, St. Paul
Adjunct Professor (I think I learned more than I taught!) | 2018
September 2022 - Present
Engaged as a fractional CDO/CIO with a company in the travel industry to help recover and grow their business post-pandemic by automating, maturing, and increasing the effectiveness of their marketing capability.
Working with senior leadership, marketing, and IT to select and implement a customer data platform (CDP) within a multi-year marketing, data, and digital roadmap.
June 2019 - September 2022
Divisional Chief Data Officer for a Fortune 150-sized division specializing in food manufacturing and food supply chains with 70,000 employees operating in 16 countries. Accountable to champion the value of data to enable global business growth and cost reduction through strategy, innovation, and execution.

STRATEGY
Created an end-to-end data and analytics strategy and roadmap in partnership with division leadership, IT leaders, and application portfolio leaders, focused on data readiness, data products, and data maturity
Recruited by corporate leadership as the one resource to work across four workstreams of organizational and operating model design for new corporate data function.
INNOVATION
Nominated for the 2022 Cargill Breakthrough Award as part of a team that utilized predictive analytics and artificial intelligence to identify key positions in each shift that will be understaffed and make recommendations to plant management for optimal staffing

Production facilities were dealing with 70% annual turnover and 10% staffing shortage.
Solution was deployed in the first 7 of 60 facilities in fiscal year '22, delivering an initial $21M in income generation and $1.2M in cost reduction.
Identified gap and led creation of a modern data integration architecture, consistent data sourcing, canonical data models, and reusable data assets in a complex, global application ecosystem. The resulting data fabric became the global target architecture for data and integrations.
EXECUTION AND DELIVERY
Provided project prioritization and project execution oversight for a large portfolio of CPS data and analytics initiatives for commercial excellence, smart manufacturing, intelligent supply chain, and ERP deployments.
Accountable for a team of 50 people in a heavily-matrixed environment spanning disciplines of data engineers, data architects, project managers/scrum masters, business analysts, and technical architects, with dependencies on a much broader team for master data management, application deployments, technology platforms, middleware, security, and more.
In addition to the many things I learned about a global manufacturing business with complex supply chains, my biggest takeaway can be summarized by the famous Peter Drucker quote that says "culture eats strategy for breakfast." A healthy culture and effective change management within that culture are critical to any success.
May 1998 - October 1999
Identified a new market opportunity for Analysts International to create a new service offering in the data and analytics space.
Created and pitched a proposal to company leadership to start a new data and analytics practice area.
Upon approval, was asked to start, grow, and lead this practice area, working with marketing, sales, and recruiting on a new projects-based business model in a firm built on a staff augmentation model.
We created and grew the practice very quickly to $1MM in revenue and 15 billable consultants the first year and then acquired another consultancy to accelerate the growth.
This experience was the beginning of my journey into finding and creating value for my customers to grow their business, and not just sell them to grow ours.
March 1994 - May 1998
As my first and only client through Analysts International, Cargill (www.cargill.com) moved me from one successful project to another, including my first exposure to data and analytics as a project manager for a new thing called "data warehousing."
Managed Cargill's first-ever enterprise data warehouse project.
Managed and architected Cargill's cross-divisional customer data warehouse to support their new go-to-market strategy called Cargill AgHorizonsTM.
The first analytics that came out of the Cargill AgHorizonsTM data warehouse showed the #2 largest farmer in terms of Cargill buying grain at harvest time was buying no inputs -- feed, seed, chemicals, or fertilizer -- from Cargill. This was the first time I saw firsthand the business value of mastering customer data across lines of business to know your customers and to find new business opportunities.
July 1990 - March 1994
After completing a four-month training program on structured programming in a mainframe environment, I joined the team responsible for the development, maintenance, and support of all corporate and accounting systems as a programmer and later a programmer/analyst.

One of the lessons I learned at Securian is that the first time you get called at 2:00am because your production job failed and you have to drive into the office to fix it so the rest of the production schedule can finish, you tend to put more emphasis on quality code and thorough testing. To this day, I still enjoy jumping in to help my teams do testing to make sure we deliver the best possible quality to the users.
May 1998 - July 1990
Worked part-time during my college years and full-time during the summers as a one-person IT department, learning a bit about everything from coding to hardware to networking.

The most important lesson I learned was that providing quality service to and creating value for my business leaders must always be job #1.
This picture was taken on top of Mount Bierstadt, one of Colorado's 14er's. Life is like a mountain hike. The journey is never straight, only those with perseverance make it to the top, and the view from the top is always worth the effort. The more important part of this photo are the two of my four kids I hiked with that day. I enjoy challenging myself to accomplish a goal but it is always more fulfilling to take others with me on the journey and it is always more fun to celebrate at the top with those who were on the journey with me. I also get a lot of joy out of seeing people around me accomplish more than they thought they could.
"You see complexity simply" and "You see things before others do." My business coach once had me ask several people what they saw as my unique ability. That first quote came from one of my employees, who ended up working with me for 15 years, and the second quote came from a CEO and trusted advisor I have had the pleasure of knowing for my entire career. These quotes, and other similar ones I received, have shaped how I step into new situations. If I can see through the confusion, chaos, and uncertainty quickly, and see a preferred future and a path to that preferred future that others are not yet seeing, I am able to bring confidence, clarity, and leadership to remove obstacles, capture opportunities, and elevate people. These are fun and fulfilling situations for me to use my unique ability to create value for others.
I enjoy being active and outdoors, especially in the summers in Minnesota. This includes running, biking, slalom skiing, and just sitting on the deck at night by a campfire. Our family vacations often involve hiking through the national parks or playing in the ocean. I also enjoy trying new things. Over the years, I have gotten my pilot's license, been skydiving, ran a marathon, completed a sprint triathlon, designed and built a deck on our house, and started a company from scratch. I guess my philosophy is I will never know if I like something until I try it.
Patrick Lencioni is currently one of my favorite authors. His books are engaging, easy to digest, and yet so impactful. His books The 5 Dysfunctions of a Team and The Ideal Team Player are two of my favorites, although I am eager to read his latest book, The 6 Types of Working Genius. I have taken the Working Genius assessment. My two working geniuses are Invention and Discernment. This combination is described as "a creative, intuitive, and confident generator of new ideas, using instinct and integrative thinking to solve real problems."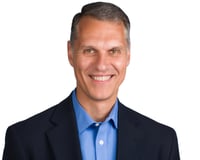 Tim Brands
Data and Digital Leader
You can contact Tim directly at timbrands@ibusinessgroup.us or 612-730-7404.
Or, use the links below to schedule a consult with Tim or invite Tim to speak.